Can you remember the last time you looked at a perfectly polished makeup look and didn't notice a flawlessly blended eyeshadow? The eyeshadow has always been and will always be a game-changer! 
It's about time you start fine-tuning your eye makeup artistry skills and master a breathtaking eyeshadow!
No matter what occasion or celebration you have, in this simple blog, we'll rub out the fear aspect of perfecting your eyeshadow and guide you through it step by step. Read on to learn how to apply the eyeshadow using Bassam Fattouh's methods! 
Your Eyeshadow Manual
(according to the parts of your eyes)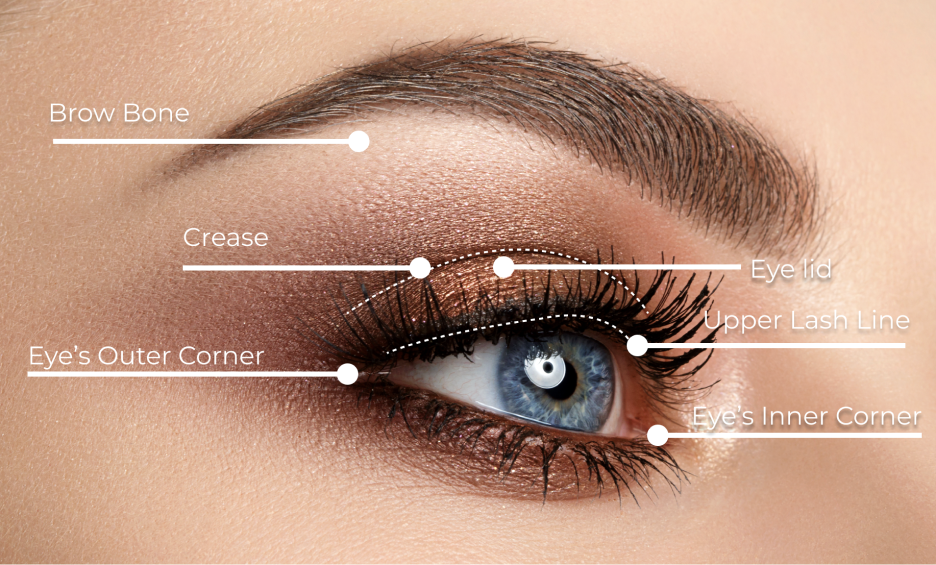 Whether you belong to the group of people who prefer to put their eye makeup after their face makeup is done or finish the eyes first, then put on the rest of the face makeup, that's up to you. However, in the actual application of your eye makeup, simply follow the numbering of each part of your eyes explained below. 
Using this numbering, you'll be able to put beautiful eyeshadow with your eyes closed. (You'll need to close your eyes to apply such a flawless finishing, anyway!)
1. Your Eye Lids
These are the parts of your eyes that you blink with and create an irresistible swooning effect. This is the part where you add your colors from the lightest to the darkest!
The eyelids are the canvas of your eyeshadow!
2. Your Crease
This is where you add depth, definition, and darker shades. Your crease is where your eye naturally folds, so adding depth to it contours your eye and elevates your look from pretty to irresistible!
3. The Brow Bone
Since this is a bone where natural light hits, this is a space in your eye shadow masterpiece that's supposed to be illuminated! Sweep some light shades or highlighter on your brow bone to give your eyes a lift, and your brow more definition. 
4. Your Upper Lash Line
No matter which looks or mood you're after with your eye makeup, the upper lash line gives your eyeshadow its glow! This space is the line right above your lashes, and it is indeed small and thin, but it has an incredibly huge effect on the look of your eyeshadow! 
In its center, you should apply some lighter shades, but at its end, don't be afraid to exaggerate with the darker colors.
5. Your Eye's Outer Corner
This part is where you enjoy using popping colors, smokey shades, or even eyeliners! Nothing matches the joy you'll feel when you get your eyeliner on point! It takes some practice, but once you know how to define the outer corner of your eye, there's no stopping you!
6. Your Eye's Inner Corner
Do you see the delicate space in the inner side of your eye? This part can illuminate your entire eye and pop your eye color! It reflects your brow bone's glow. So, be generous with adding light shades, or shimmery ones in your eye's beautiful inner corner.
A Step-By-Step Eyeshadow Tutorial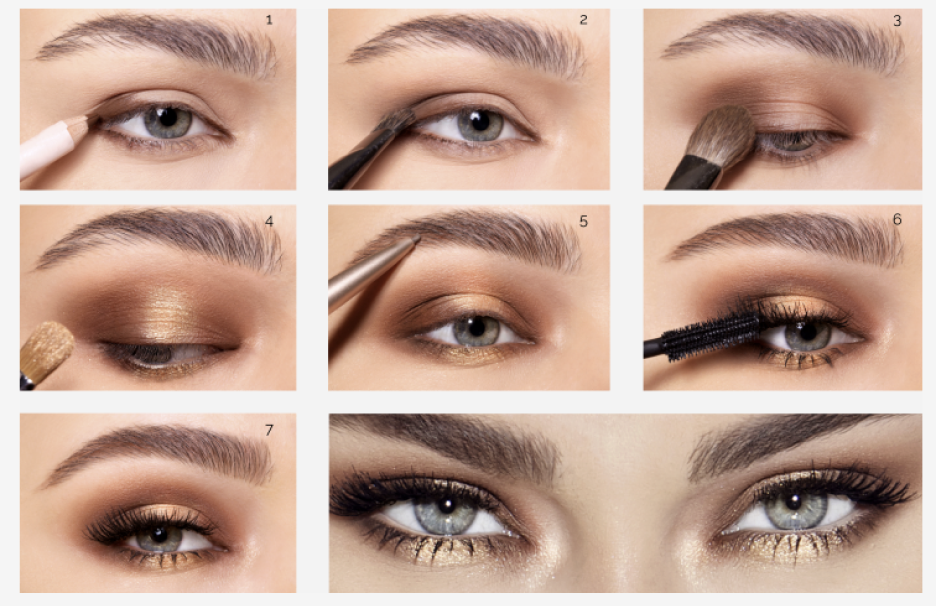 1. Prime Your Eye
This step often gets overlooked, but Bassam Fattouh confirms that if you want to get a vibrant eye look that you're proud of, priming is key. 
With a well-applied primer, your eyeshadow color will be smudge-proof and maintain its opacity for the entire day.
2. Build Your Eyeshadow Base
No matter what mood you're going for with your eye makeup, always introduce the routine with a sweep of a light natural shade all over your eyelid. 
Choose an eye shadow that matches your skin tone; a few shades darker or lighter is okay. Take your fluffy eye makeup brush and carefully apply it all over your eyelid. 
Bassam Fattouh prefers to use the Mattifier 1 and Mattifier 3 shades for the eyeshadow base.
3. Color, color, color!
You got your base all set up, yes? Now we add depth starting from your upper lashline to the outer corner of your eye.
For a natural look, go for matte earthy shadows such as Kefraya, Choco Brown, or Tropical Brown on the outer edge of your eye. 
And if the eye shadow look you're after is one that steals the lights with its popping colors, using any of the striking shimmery shades from The Star Palllete will get the job done.
And most importantly, highlight your inner eye corner and your brow bone! 
4. Blend to perfection!
Blending your eyeshadow is the secret ingredient that ties up the entire look! It is the step that makes your canvas look intact and flawless. 
Get a clean and fluffy blending brush, dip it lightly (very lightly) in your loose powder, and pat it smoothly on all your eyelid, from your inner corner to your crease.
5. Wings on Fleek!
This step can be skipped, but then again, remember how extra gorgeous your eye makeup would be with a killer eyeliner!
You start drawing your eyeliner from the outer side of your lash line, and you have the complete freedom to sweep it out of that line to add more drama. To keep it simple, draw your liner only above your lash line.
There is no rule with eyeliner, and black isn't the only color that can elevate your look! Check out the popping colors Bassam Fattouh uses in his creamy dip liners and his gel-like eyeliner pens.
The Final Touches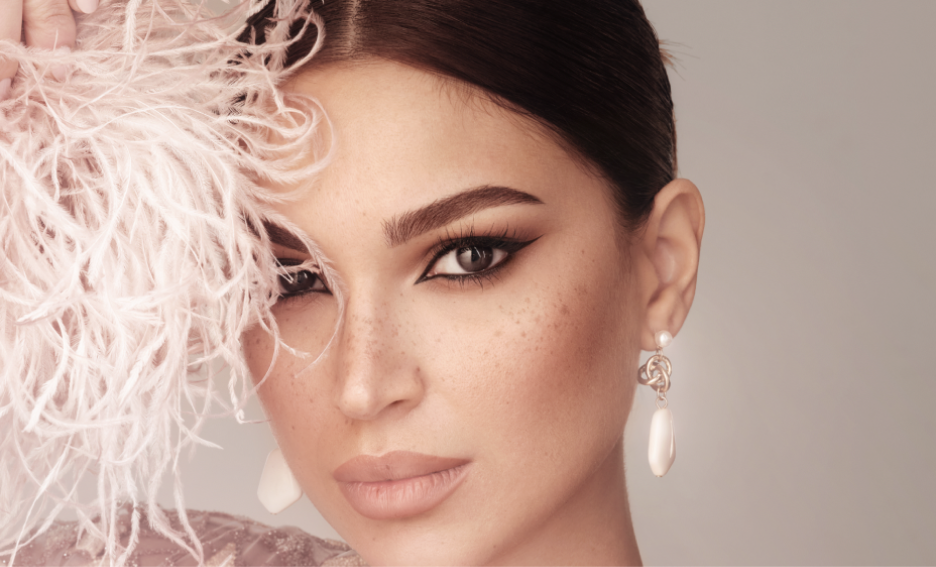 Makeup is for you to enjoy your beauty and celebrate your gorgeous features, so don't stress about getting the perfect eyeshadow or that fleeked eyeliner. Just know the parts of your eyes, have amazing and safe makeup products, and practice, practice, practice. 
If you have any further questions about your eyeshadow or any more clarification about makeup looks, simply reach out to us. Bassam Fattouh's team is ready to assist you because you deserve nothing less than our professional expertise!